Wineries
Livermore is California's oldest wine region and each day the city welcomes visitors to a flourish of vineyards and wine country experiences at over 60 wineries. The city is quickly becoming well-known for award-winning wines at its family owned and historical wineries. Most wineries offer opportunities to wine taste, meet the winemaker, tour the facilities, and more.
Throughout the year, the city hosts a number of events involving the local wineries. During select months of the year wineries will host "Wine Wednesdays" where guests can drink wine in the evening. Every year there is an Annual Harvest Wine Celebration where wineries celebrate the harvest with wine tasting, arts and crafts, and music. Also, the city hosts the Airport Open House, Air Show, and Wine Tasting event annually where guests can drink wine, eat food, listen to music, and watch planes fly overhead. Another event held by wineries is Holidays in the Vineyards where wineries decorate their tasting rooms and hold holiday festivities. A full list of wineries and events being held can be found here https://www.lvwine.org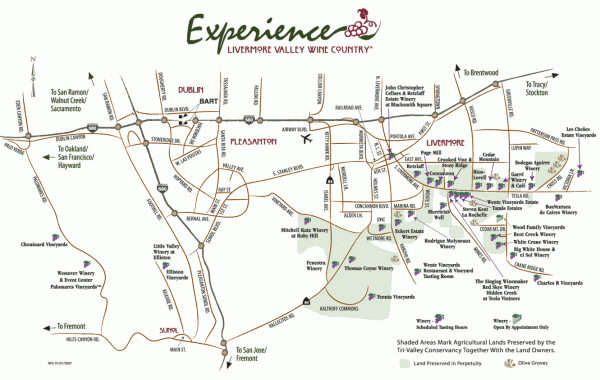 Some of the most popular wineries in Livermore include: Wente Vineyards, Concannon Vineyard, McGrail Vineyard, Steven Kent Winery, and Murrieta's Well.
Wente Vineyards
Wente Vineyards, founded in 1883, is the country's oldest, continuously operated family-owned winery. The Wente Estate is a registered California historical landmark. Wente has tasting rooms, a restaurant, golf course, and holds several large events throughout the year. They offer reds, whites, rosés, and blends. Wine bottles range from about $15-$140 depending on the type of wine and the year. They offer four clubs for members to join: Small Lot Wine Club (for wine lovers who want a variety of wines) , Nth Degree Wine Club, (for red wine connoisseurs and collectors) Winemakers Studio Wine Club (for those who want to experience and learn about a variety of wines) , and Entertainment and Golf Club (for those who want to fully experience wine country life). In addition to hosting weddings and corporate events, Wente also holds a concert series that features some of the most well-known artists in the country. Their website with complete details is https://wentevineyards.com
Concannon Vineyard
Concannon Vineyard is the first vineyard credited for releasing Petite Sirah as a standalone varietal wine. They offer eleven types of wine and price pre bottle ranges from about $20-$90 depending on the collection. They have two clubs: The Gatekeeper's Club and the Legacy Club. The Gatekeeper's Club offers members priority access to their new releases, small lot wines, and more. The Legacy Club offers members the access of the Gatekeeper's Club and also gives members a vine to dedicated to them, discounts on purchases, and more. Throughout the year they hold several festivals and tours. More information on the winery can be found here https://www.concannonvineyard.com
McGrail Vineyard
McGrail Vineyard is a family winery specializing in Cabernet Sauvignon. Their estate offers daily wine tasting with special deals for groups. They also offer vineyard and winery tours which take guests though a 90 minute tour around the property and finish with samplings of wine. McGrail has a variety of wines ranging from about $25-$115. Also, they have bocce ball courts that guests can reserve to play on while they drink wine. McGrail has a members club that provides members with their own tasting room that is unopened to the public. They have several events throughout the year including their quarterly wine pick-up where guests can come taste new releases, meet the winemakers, listen to music, and more. Their website is http://www.mcgrailvineyards.com/home.html
Steven Kent
Steven Kent is another popular winery in Livermore. They offer daily wine tastings and on the weekends they offer a cellar pass where guests can taste in a private, seated area. Steven Kent has one membership opportunity and those who are members get complimentary wine tasting, complimentary member events and celebrations, member allowances, access to the club lounge, and more. They offer whites, reds, cabernet sauvignons, and blends ranging from about $25-$100 per bottle depending on their qualities. More information can be found here http://www.stevenkent.com
Murrieta's Well
Murrieta's Well has been growing grapes since the 1800's and the winery continues to be a local favorite. The winery specializes in terroir-driven, limited production wine blends. They offer 14 different types of wine ranging in price from $26-$60 depending on the type and year. Murrieta's Well has three club options for those wishing to become members to choose from: Taste, Enthusiast, and Connoisseur. All memberships include discounts on wine shipments, discounts on wine experiences, and complimentary wine tastings. However, the Taste membership discount is 15% compared to the other two which have 20% discounts. The Connoisseur membership allows for six people to enjoy complimentary wine tastings while the two allow four people. Lastly, the Taste offers four bottles of wine per shipment, the Enthusiast offers six, and the Connoisseur offers twelve. More information can be found here https://murrietaswell.com
Wine Trolley
Livermore has its very own Wine Trolley. The trolleys conveniently pick-up and drop-off every 20-25 minutes. Those on the trolley will visit 4 locations from a rotating list of over 25 wineries. Each trolley fee includes the itinerary, tasting fees, lunch, and transportation. Customers can customize their day and receive discounts at Downtown Livermore restaurants with their wristbands. For information on the trolley, deals, pricing, etc. click here https://livermorewinetrolley.com
Breweries
Livermore is a part of the Tri-Valley Beer Trail. The trail includes a collection of 22 craft breweries, taprooms, and restaurants. While on the trail, customers have the opportunity to sample flights of local brews, learn about food pairings, and speak with brewmasters. There are 9 locations in Livermore that are on the trail. Those who participate in the trail receive a "passport" where they can get stamps at each location and will then receive a T-shirt or pint glass at the end. For a map of the trail, list of locations, detail, etc. click here https://visittrivalley.com/activities/beertrail/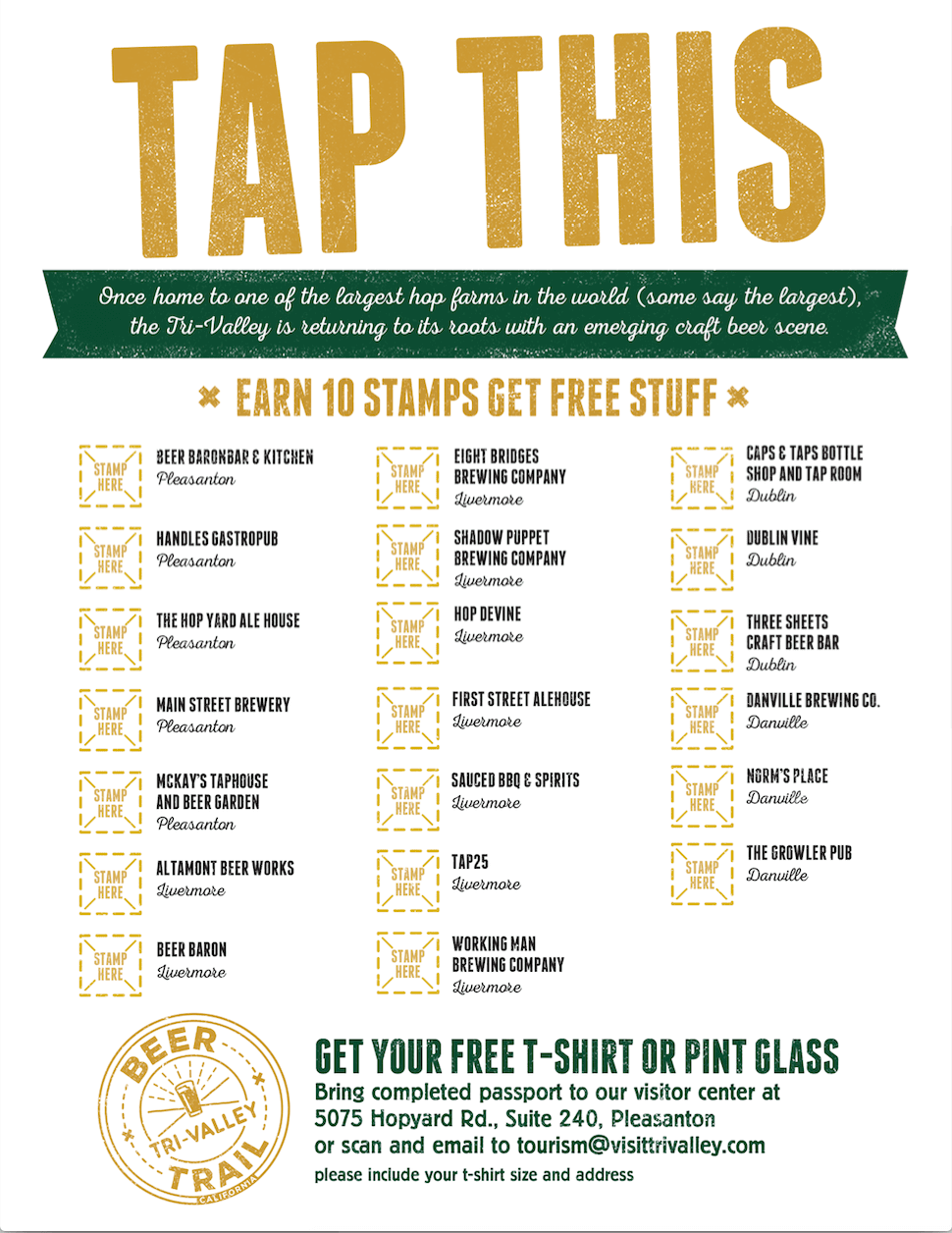 A few of the most popular breweries in Livermore are Shadow Puppet Brewing Company, Altamont Beer Works, and Working Man Brewing Company.
Shadow Puppet Brewing Company
Shadow Puppet Brewing Company specializes in designing unique beer flavors by combining traditional brewing techniques with uncommon ingredients. The tasting room is open Wednesdays through Sundays and they are serve 17 beers including pints, tasters, flights, and light snacks. They also offer growlers, cans, and bottles for guests to take beer home. They offer three levels of memberships: Basic, Gold, and Platinum. Shadow Puppet also has food trunks that come daily to provide patrons with a variety of bar food, bbq, and other american favorites. Their website link is here http://www.shadowpuppetbrewing.com/index.html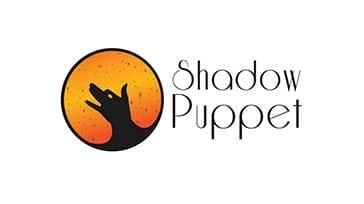 Altamont Beer Works
Altamont Beer Works is Livermore's first craft brewery since Prohibition. Their tap room is open from Tuesday to Sunday. They offer a variety of beers that range in type, flavor, alcohol by volume, bitters, etc. Altamont Beer Works is child and dog friendly and encourages patrons to bring the whole family. They also have caters come to provide a variety of food for guests to purchase. Their website with more information is here http://altamontbeerworks.com/1/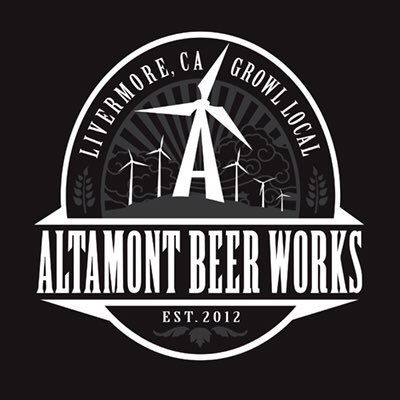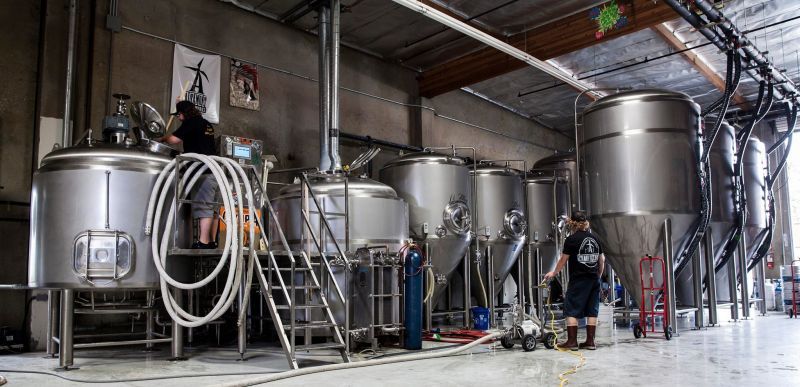 Working Man Brewing Company
Working Man Brewing Company is a combination of of two independent breweries: Mt. Diablo and Working Man Brewing Company. The two came together to bring high-quality, well crafted beer that is fresh and local to Livermore. The company has produced over 60 beers since it opened and they plan on adding more to the list. They currently have two tasting rooms offering over 14 types of beers to taste. Their tasting rooms are open from Thursday to Sunday and they maintain a family and dog friendly environment. Their website is http://workingmanbrewing.com
Restaurants
The city has an array of restaurants, cafes, eateries, coffee shops, bakeries, and more. Options of places to eat vary from casual to fine dining and include just about every type of food. Local favorites include Wasabi Bistro, Hop DeVine, Strizzi's, Campo di Bocce, Casa Orozco, First Street Ale House, Sauced BBQ & Spirits, Kawa Sushi, Simply Fondue, and Uncle Yu's at the Vineyard. Each restaurant offers a unique ambience and menu that provide for a one-of-a-kind experience. Popular coffee shops include Panama Bay Coffee Company and Espresso Rosetto. For a complete list of restaurants, hours, menus, etc. click here https://www.yelp.com/search?find_desc=Restaurants&find_loc=Livermore,+CA
Listed below are details about the restaurants listed above:
Wasabi Bistro
-Japanese food
-Sushi, Rolls, Bento Boxes, Appetizers, Teriyaki
-$$
-Yelp 4.5 stars
-Good for small parties
-Features a bar area where patrons can watch chefs make rolls
Hop DeVine
-American food
-Burgers, Sandwiches, Appetizers, Salads
-$$
-Yelp 4.5 stars
-Good for families
-Features outdoor covered seating and craft beer and wine
Strizzi's
-Italian food
-Soup, Salad, Pasta, Specialties, Combination Plates
-$$
-Yelp 3.5 stars
-Good for families
-Features outdoor seating area in the heart of downtown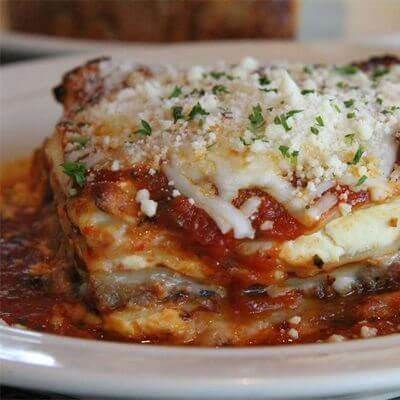 Campo di Bocce
-Italian food
-Pizza, Calzones, Sandwiches, Pasta, Appetizers, Soup, Salad, Entree
-$$
-Yelp 3.5 stars
-Good for parties
-Features indoor and outdoor bocce ball courts where guests can be taught to play
Casa Orozco
-Mexican food
-Burritos, Enchiladas, Quesadillas, Tacos, Tostadas, Chimichangas
-$$
-Yelp 3 stars
-Good for catering
-Kids eat free Mondays, Taco Tuesdays, Wet Wednesdays (happy hour all day long)
-http://casaorozcolivermore.com
First Street Ale House
-American food/ Brewpub
-Wings, Burgers, Sandwiches, Baskets of Fries, Salads
-$$
-Yelp 4 stars
-Good for All You Can Eat Weekend Breakfast
-Tuesday Happy Hour All Day, Thursday Pint Night
-https://www.firststreetalehouse.com
Sauced BBQ & Spirits
-BBQ food
-BBQ meats, Burgers, Hot Dogs, Sandwiches, Sides
-$$
-Yelp 3.5 stars
-Good for private events and catering
-Features live music on Saturday nights
-https://www.saucedbbqandspirits.com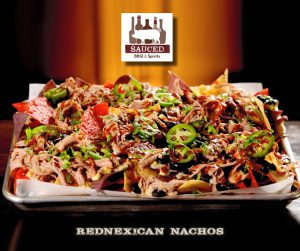 Kawa Sushi
-Japanese food
-Sushi, Rolls, Bento Boxes, Appetizers, Teriyaki
-$$
-Yelp 3.5 stars
-Good for catering
-Features Teppanyaki tables where chefs cook in front of guests
Simply Fondue
-Fondue
-Dinner, Lounge, Sunday Brunch, Chocolate
-$$$
-Yelp 4 stars
-Good for couples
-Features fondue pots where guests can cook and dip their own food
-http://www.simplyfonduelivermore.com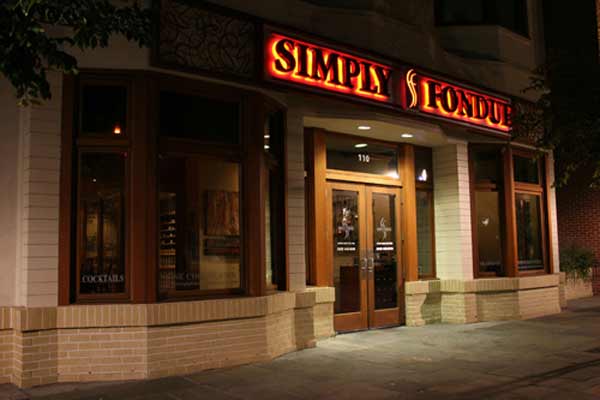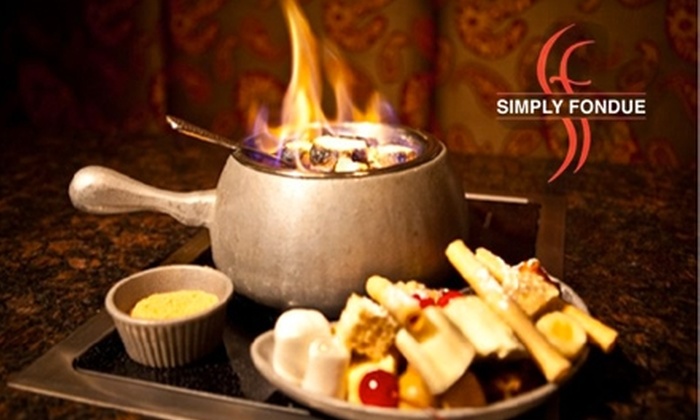 Uncle Yu's at the Vineyard
-Chinese food
-Soup, Appetizers, Chicken/Beef/Pork/Fish dishes, Noodles, Rice
-$$
-Yelp 4 stars
-Good for large groups and parties
-Features dishes that can be shared
-http://www.uncleyusvineyard.com